Gratis Cartoon Sex Bombs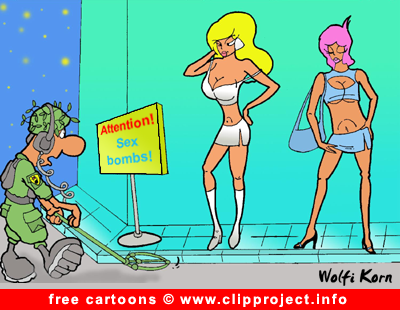 Image information
Description
Gratis Cartoon Sex Bombs
Keywords: Funny love cartoons for free, free cartoon images, man and women picture for free, free man and women caricature, download free man and women cartoon, cartoon woman, funny love jokes, sexy girls cartoons
Jokes about Love
A little boy, at a wedding looks at his mom and says, "Mommy, why does the bride wear white?"
His mom replies, "The bride is in white because she's happy and this is the happiest day of her life."
The boys thinks about this, and then says, "Well then why is the groom wearing black..."
###
PLACE FOR YOUR LOVE JOKES!
If you have funny appropriate jokes, please send there to us via field "Comments" below. After check by admin, your jokes will/can be published on this page.
Share this image in Forums (BBcode)
Include image :
Link image :
Total images in all categories: 238
Total number of hits on all images: 1,435,563

---